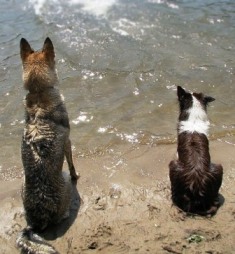 Kalinka is full of energy, attitude and temperament. Thanks to her we have become more active and have been looking for different types of activities. Dog sports are now part of our everyday routine.
Frisbee is getting to be more and more popular in Poland. It requires a strong relationship between dog and owner as well as speed and agility. Some may say that this is all too much for a wolfdog but who said it is impossible? When getting a wolfdog we already knew that this is the sport we would like to practice. We knew we could make it and we were right! Kali loves frisbee!
We practice as often as possible. It is a test of patience for us as everything takes time. Przemek works with Kalinka on frisbee. She requires more time than her buddies who is a Border Collie and a Belgian Shepherd, but patience pays off. It is challenging during training sometimes but once Kali sees frisbees she goes mad. And we will definitely continue the game!
Frisbee is our main activity but not the only one. We practice dog Agility for fun, work on Obedience and started to participate in Dogtrekking. More about this on relevant pages.
We also walk a lot with our friends and their dogs and arrange many play dates. Lots of things happen during these meetings. We are trying new stuff all the time and maybe this page Free time will make other owners believe that with a wolfdog you can do everything!